Motocaddy, the global leader in electric caddies, has expanded its business operation in the United States having opened a new warehouse with increased capacity to accommodate continued growth in the world's largest golf market.
Located in Vista, San Diego - some 15-minutes from the previous warehouse in Carlsbad - the new 6,000 sq. ft. facility will help support the growing demand from golfers wanting to walk the course and feel the benefits of using Motocaddy products.
The new facility will also provide enhanced office space for the brand's U.S. based sales and customer service team led by Roger Teat, President/General Manager of Motocaddy in the Americas. He also has support from a 12-man sales team working across the country, in addition to Motocaddy's National Service Centre in Grand Rapids, Michigan.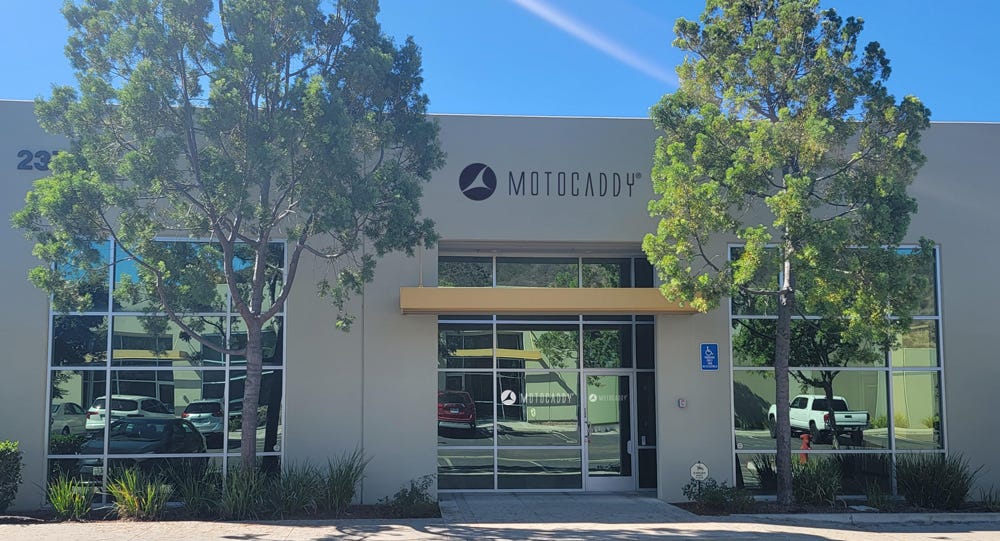 "It represents continued investment by Motocaddy following two years of rapid growth," said Roger. "The new facility can house plenty of stock and I'm really excited to give lots more golfers the opportunity to experience our hi-tech, premium products and see how much fun walking the course can be ," he added.
The innovative brand, which has become a market leader in electric caddies across the world since launching in 2004, will stock its award-winning M7 REMOTE model - rated the Most Wanted Electric Cart by MyGolfSpy for three consecutive years - and the technologically advanced M5 GPS DHC, featuring a fully integrated GPS built into a super-responsive 3.5" touchscreen display. The range also includes the feature-packed M1 DHC, the world's most simple-to-use electric caddy, with downhill speed control, USB device charging and an electronic parking brake. Matching golf bags, including the 100% waterproof Dry-Series and premium Pro-Series lines are also available along with the versatile HydroFLEX hybrid bag offering a carry option if needed. The #1 push cart brand in its home market in the UK, Motocaddy also offers the compact-folding CUBE and lightweight Z1 models packed with popular features.
"As the world's biggest-selling electric caddy brand, Motocaddy is continuing to expand to meet the growing demand from golfers across North America," said Motocaddy CEO, John Helas. "We also have a dedicated sales team covering all of the major golf-playing States, putting us in a great position to support our growing retailer network," he added.
The news comes after Motocaddy recently announced a partnership agreement with MKRAK, one of the largest distributors of golf products in Canada, to offer more walking Canadian golfers' access to its top-selling carts and bags, while enhancing sales and market share in the Americas.
Under the terms of the agreement, MKRAK becomes the distributor for Motocaddy products in Canada and has opened a new National Service Centre at its headquarters in Montreal. Led by father and son Mark and Stephen Krakower, the MKRAK team of professionals has over 30 years of experience in sales, marketing and customer service.