Motocaddy, the world's biggest-selling electric trolley brand, is continuing its support of the biggest amateur golf tournament series in Germany sponsored exclusively by Mercedes-Benz.
Continuing as a Premium Sponsor of the luxury vehicle manufacturer's most popular domestic event, the Mercedes-Benz After Work Golf Cup (AWGC), Motocaddy will also offer golfers the chance to benefit from its game-changing trolley features by providing a fleet of popular and reliable electric trolleys for the prestigious Mercedes Trophy German Final at Öschberghof. The Motocaddy team will also be on hand to offer on-course service.
Following a successful collaboration in 2022, Motocaddy is providing prizes and on-course support for more than 2,000 AWGC events staged over a 24-week period, starting last week, at over 200 golf clubs across Germany with roughly 50,000 rounds taking place.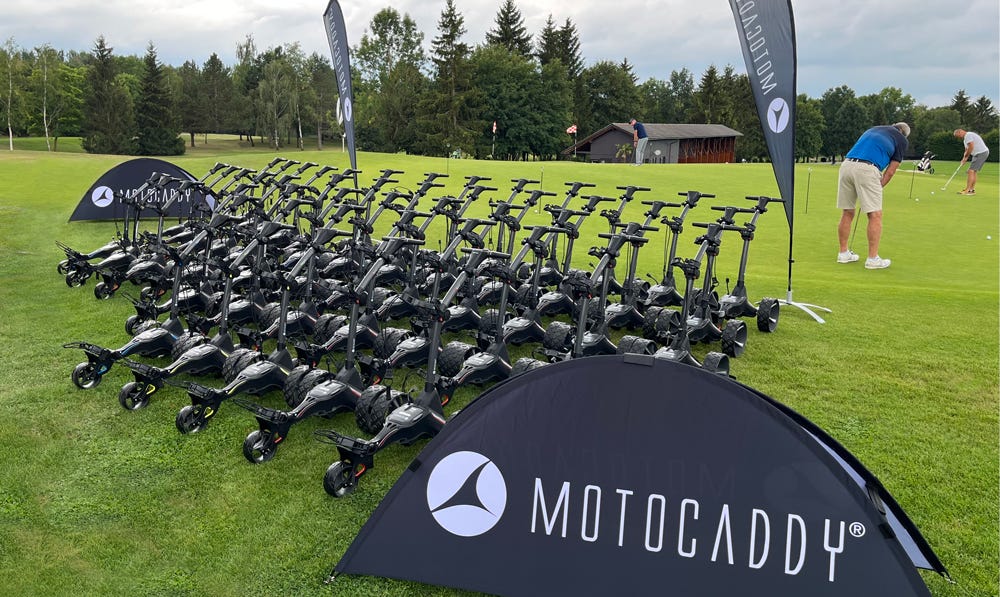 Backed by The R&A, the Mercedes-Benz After Work Golf Cup is a series of exciting nine-hole tournaments held throughout the golf season on weekdays, enabling golfers to play competitive golf in the evening on a regular working day. Prizes and gifts on offer exceed €300,000, with the events open to golfers owning any model of car, while being supported by Mercedes' dealerships nationwide.
"The After Work Golf Cup has been going for more than 30 years and is the biggest amateur tournament in Germany with yearly up to 30,000 golfers of all abilities taking part, so it's a great platform for us to demonstrate our latest pioneering trolleys," said Thorsten Kueck, Managing Director of Motocaddy EMEA based in Bochum, Germany.
"It's great that we can support an event that captures what golf is all about. The AWGC encourages fun, competitive play for golfers of all ages and abilities, so we're delighted to be involved once again," he added.
"We have supported the Mercedes-Benz After Work Golf Cup for a number of years and we look forward to another successful season of summer twilight golf along with providing products at the esteemed Mercedes Trophy German Final," said Oliver Churcher, Motocaddy Marketing Director.
"We continue to see significant growth of German golfers using electric trolleys and just like Mercedes-Benz, our German-based sales and service team is on hand to provide top quality products, with market-leading service," he added.