Motocaddy, the world's biggest-selling electric trolley brand, is lending support to the amateur golf initiatives of Mercedes-Benz as a Premium Sponsor of the luxury vehicle manufacturer's most popular domestic event and provided trolleys for its prestigious international tournament.
Raising its profile at the 2022 Mercedes-Benz After Work Golf Cup after being a product supplier for many years, Motocaddy is providing prizes and support for more than 3,000 events staged over a six-month period at over 300 golf clubs across Germany with more than 70,000 rounds taking place.
The brand that leads global sales in electric trolleys – in addition to being the UK's top-selling push cart supplier - also supported the MercedesTrophy final in Stuttgart earlier this month following similar involvement in the recent German final in August, having provided a fleet of more than 50 Motocaddy electric trolleys for enthusiastic golfers from around the world to use while competing for the prestigious title.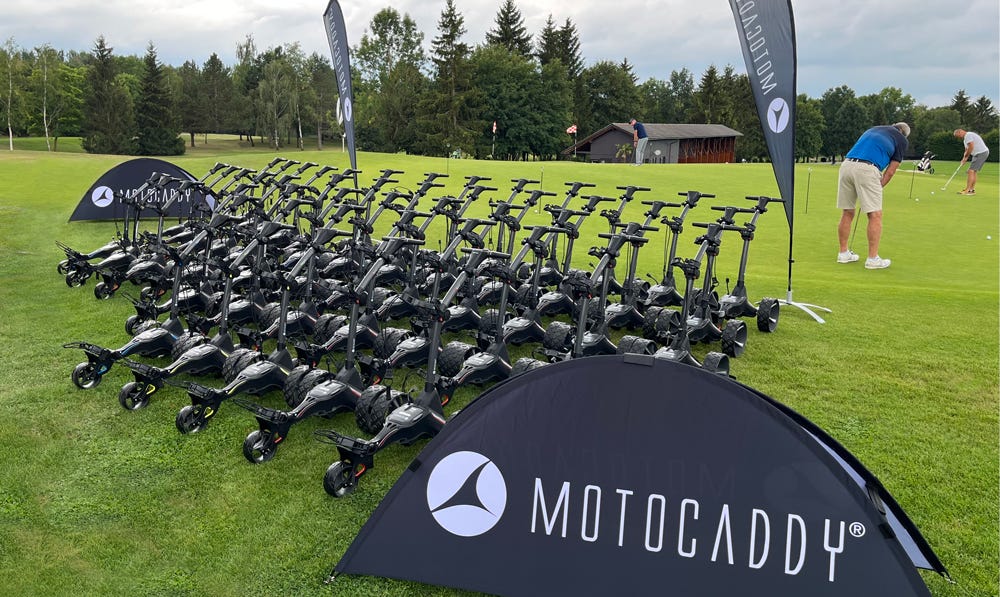 "The After Work Golf Cup is the biggest amateur tournament in Germany and possibly Europe, so it offers the perfect platform for golfers of all ages and abilities to appreciate the benefits of our latest hi-tech models," said Thorsten Kueck, Managing Director of Motocaddy EMEA based in Bochum, Germany. "The MercedesTrophy has a truly international dimension which fits perfectly with our brand objectives and global reach among golfers who prefer to walk the course and maximise their enjoyment of the game," he added.
Backed by The R&A, the Mercedes-Benz After Work Golf Cup has been successful for more than 30 years and is open to golfers owning any model of car, while being supported by Mercedes' dealerships nationwide. More than 30,000 golfers across the country take part in a fast, fun tournament played over 9-holes that leaves more time for the weekend.
More than 60,000 golfers from over 60 countries compete for a place in the World Final of the annual MercedesTrophy at the birthplace of the brand in Stuttgart, after a series of invitational tournaments held exclusively for the owners of Mercedes-Benz vehicles.
"We're delighted to take our partnership with the Mercedes-Benz supported amateur golf programme to another level and provide competitors with the best electric trolleys on the market at these special events," said Motocaddy Marketing Director, Oliver Churcher.
"There is a clear synergy between Mercedes and Motocaddy, with both global brands known for innovation in their respective fields aiming to produce environmentally-friendly and cutting-edge products for the future," he added.