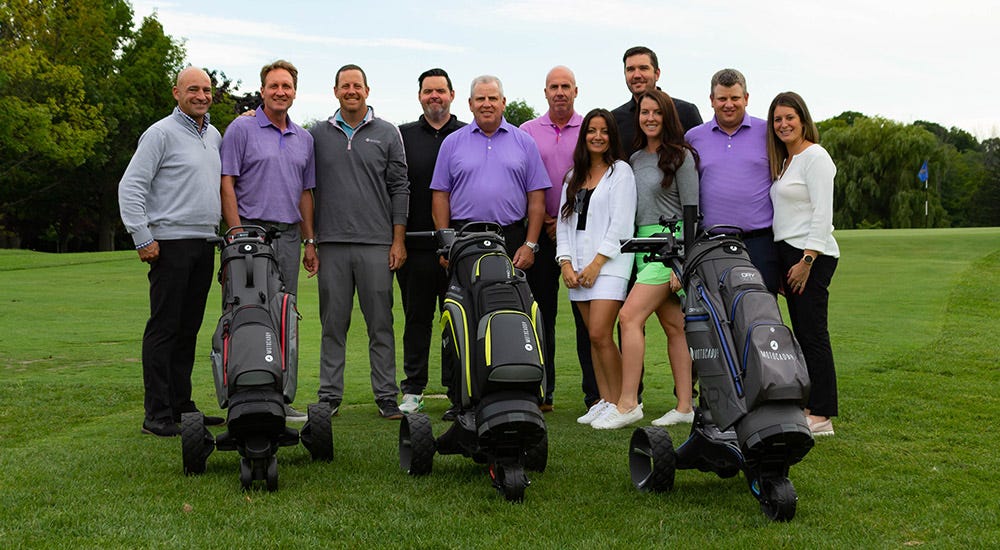 Leading electric golf trolley brand Motocaddy has signed with MKRAK, one of the largest distributors of golf products in Canada, to offer more walking Canadian golfers access to its top-selling models and bags, while enhancing sales and market share in the Americas.
Under the terms of the agreement, MKRAK becomes the distributor for Motocaddy products in Canada and will open a new National Service Centre at its headquarters in Montreal. Led by father and son Mark and Stephen Krakower, the MKRAK team of professionals has over 30 years of experience in sales, marketing, and customer service.
"Canada offers Motocaddy a great opportunity with a large proportion of the golfing population preferring to walk the course with the help of carts. That's why we're delighted to have agreed to a deal with such a strong distributor of golf products in the country as MKRAK," said Motocaddy CEO, John Helas.
"In addition to dealing directly with more than 1,000 green grass accounts, MKRAK is a member of Boutique Pro Golf, Canada's only buying group, and a supplier to Golf Town, the country's largest big box retailer. Although the model of distributorship is a different business model to the one we've adopted successfully in other markets – including the USA where we have a subsidiary based in Carlsbad – we feel this partnership will quickly grow our business in Canada," he added.
MKRAK will offer an extensive product range to Canadian retailers and their customers. It includes five Lithium-powered electric carts – S1, M1 DHC, M5 GPS DHC & M7 REMOTE – plus the popular CUBE pushcart. Three award-winning bags – Dry-Series, Pro-Series & HydroFLEX – will also be on sale, along with a comprehensive range of accessories. The M7 REMOTE was recently awarded 'Most Wanted' status for a third consecutive year by MyGolfSpy in its Best Electric Cart test.

"This is an exciting time for the Motocaddy brand in the region, as more golfers appreciate the value of our hi-tech carts and we're looking forward to working with Mark and his team at MKRAK to mutual benefit," said Roger Teat, President/General Manager of Motocaddy in the Americas.
As well as having products warehoused and distributed directly from MKRAK's facility in Montreal, Motocaddy is launching a new eCommerce website to aid direct sales.
"Motocaddy matches our business philosophy and we're excited to start selling to our accounts a global leader that produces premium and reliable products," said Mark Krakower, President and CEO of MKRAK.
"Canada has more walking golfers per capita than the USA, so this is a big opportunity for MKRAK to utilize its sales distribution channels to increase the sales of Motocaddy in the Canadian marketplace." he added.
One Head Professional looking to benefit from the partnership between Motocaddy and MKRAK is Dennis Firth at The Royal Montreal Golf Club, the oldest club in North America and home of the President's Cup in 2024.
"I've seen first hand the benefit of using Motocaddy products and it's great that we'll see more electric carts on our fairways," said Dennis. "Motocaddy's reputation in the marketplace is second to none led by the quality of the products. At Royal Montreal, we pride ourselves on carrying the best product lines, and having worked with Mark and his team at MKRAK we are confident Motocaddy will be a great addition to our Professional Shop," he added.