Welcome to Motocaddy
We're here to help make walking the golf course an even more enjoyable experience!

As golfers ourselves, we know the game is all about having fun – whether that's a social round with your buddies or shooting your lowest score. Millions of golfers around the World can testify that golf's physical and mental wellness benefits are as compelling as the challenge of hitting a perfect shot.
A lot of golfers prefer to ride – we get that – however, recent research* has revealed that more North American golfers are walking the course than ever before. A study by the R&A also found that "Walking is one of the best things you can do for your health, adding years to life and increasing health and happiness," and indicated that walking 18 holes will see golfers covering 5+ miles and 13,000 steps.
In the past, walking golfers had a simple choice between carrying their clubs or using a pushcart. We are here to tell you that there is an even better option – an electric trolley! Think motorized pushcart with a vast array of features to allow you get all the benefits of walking the course, but without hindering your performance, and lowering the risk of injury!
You don't need to take our word for it though. Independent research* found that an electric trolley is regarded as the 'most satisfying' way to transport your clubs around the course, with around half of owners wishing they'd made the switch sooner!
---
WHY CHOOSE MOTOCADDY?
A British company, Motocaddy was founded in 2004 to bring the very best in design, build and functionality to golfers of all ages and abilities looking for reliable and affordable electric trolleys. Since then, we've worked hard to become the World's #1 electric trolley brand with an award-winning range, excellent aftersales support and a strong focus on innovation, whilst also expanding the choice for push cart users and golfers looking for matching golf bags and accessories.
Independent research* confirmed that Motocaddy is the 'most considered' brand by U.S. golfers for future purchases, as well as being the electric trolley brand 'most recommended' by existing owners. We are also proud to carry an 'Excellent' rating on Trustpilot with well over 3,000 positive reviews.
Motocaddy has subsidiaries in the UK, Germany and Carlsbad CA., while also supporting more than 30 international distributors and over 2,500 retail partners, with Worldwide sales topping 600,000 electric caddies.
Introducing MKRAK
Offering on-the-ground, Canadian-based sales, fulfilment and service through distribution partners MKRAK, we are perfectly placed to provide knowledgeable advice, fast shipping and outstanding service.
With over 30 years of experience, MKRAK is one of the largest distributors of golf products in Canada, offering more Canadian golfers access to the award-winning Motocaddy product range while enhancing sales and market share in the Americas. MKRAK has also opened a new National Service Centre at its headquarters in Montreal, supported by our Carlsbad CA. based U.S. sales and support team.
In summary, if you choose Motocaddy, you can be confident that not only are you buying a great-looking, super-reliable and technology-packed product, but we'll always be there to provide advice and aftersales support if you need it.
---
WHAT ARE THE OPTIONS?
A Motocaddy electric trolley doesn't just take away the strain of carrying or pushing your bag, it provides all the features you need to play your best, whether that be cutting-edge GPS, remote control, performance tracking or simply making golf more fun.
Our award-winning electric caddies check all the boxes for golfers of every age and ability. At the click of a button, you're good to go with any of these 2022 models: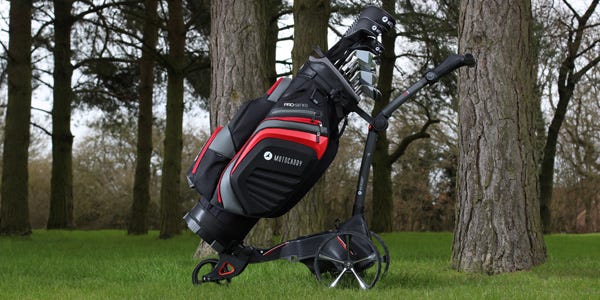 M1 DHC Electric Trolley
An unbeatable entry-level electric trolley at an even better price, the award-winning M1 DHC is the world's simplest‑to‑use compact electric trolley and boasts a car trunk-friendly design for optimum storage.
Features include 9-speed settings, 230w motor, USB charging port, downhill braking and an electronic parking brake.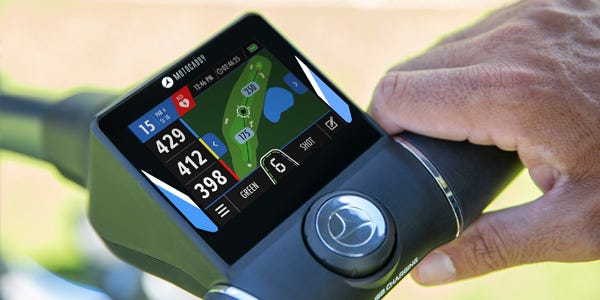 M5 GPS Electric Trolley
Packed with the latest technology, the M5 GPS DHC 'Smart Cart' is the world's first compact trolley to offer fully‑integrated GPS through its super-responsive 3.5" touchscreen display. Boasting 40,000 pre-loaded courses with distances to the front, middle and back of the green, plus hazards, it offers the ability to move the flag for accurate shot planning and can also display smartphone notifications via its Bluetooth connection.
---
M7 REMOTE Electric Trolley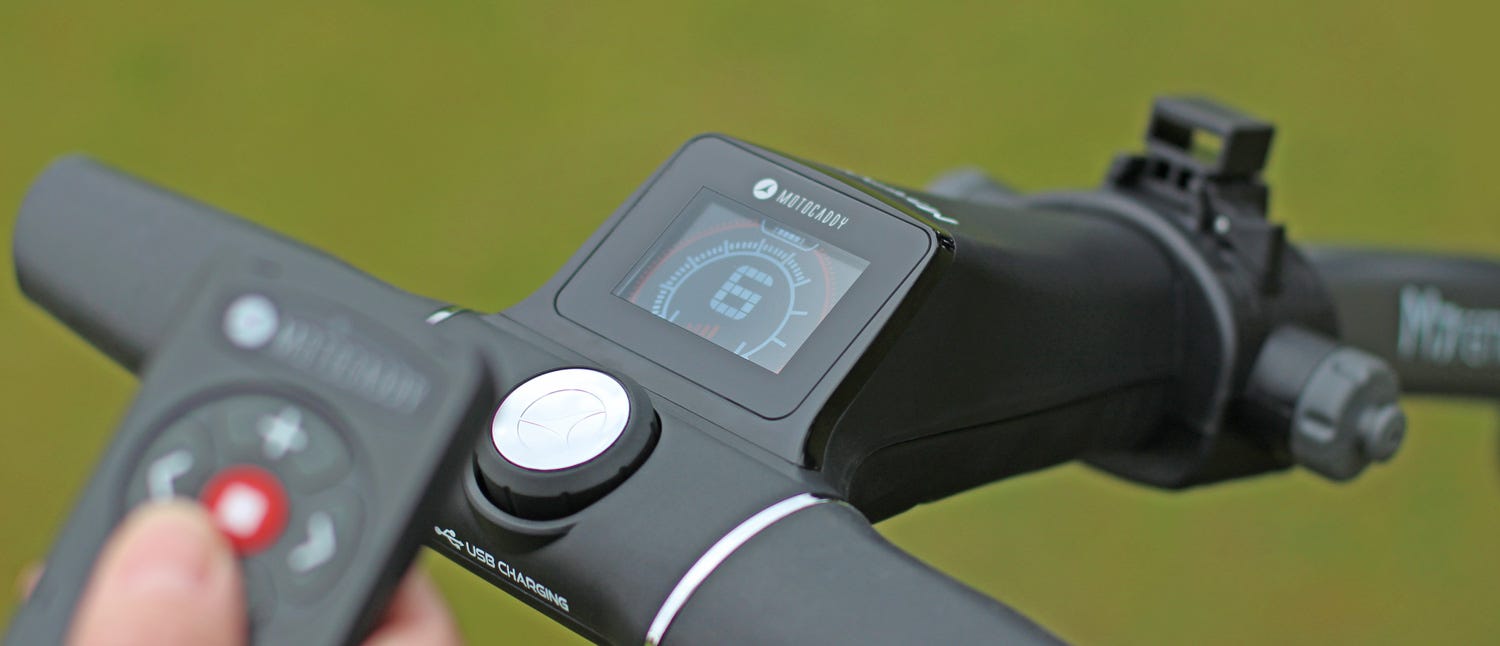 The most popular option with Canadian golfers, the M7 REMOTE has been the MyGolfSpy 'Most Wanted' electric trolley for the last three years. Boasting a rechargeable handset offering super-responsive forward, back, left and right controls for effortless hands-free navigation, it also includes an anti-tip wheel for extra stability, USB charging port and all terrain tyres.
---
No matter which model you go for, with Motocaddy, you feel better and play better!
GOT ANY QUESTIONS?
Still not sure or have any questions? Our friendly team of Customer Advisors at MKRAK would love to hear from you. Hit the button below to get in touch or call (877) 267-8200.
*Survey conducted by Sports Marketing Surveys Inc. in July – August 2021 amongst male and female golfers.